A day to day history of the music that inspires us and the bands and artists who create it
A New Book by Michael Walter
365 DAYS OF MUSIC HISTORY
What inspired Eric Clapton to write "Wonderful Tonight?"  How did Hootie & the Blowfish get their name? Who turned down "Happy" before Pharrell turned it into a worldwide hit? What chance encounter led to one of David Bowie's most successful albums?  How did Colonel Tom Parker make money off non-Elvis fans? What current event forced a last minute lyric change in "Sympathy for the Devil?"  Who is 2pac named after? Which band stole the show at Live Aid (and which band was a big disappointment)?  How did Madonna turn an MTV ban into a record number of video sales? Why did Paul Anka write "My Way" for Frank Sinatra?
You'll discover the answer to all of these questions and so many more in On This Date in Music.  If you're a music lover who enjoys discovering "behind the scenes" stories about the songs and bands you've always loved this is the book for you. 
Read it all at once or take a year and enjoy one excerpt a day. Either way you'll finish this book with a deeper appreciation for the soundtrack of your life.
WHAT'S INSIDE? HERE'S A SAMPLE
ON THIS DATE IN MUSIC: JULY 8th, 1967
Hear the Audiobook Sample:
Read a sample from the printed book: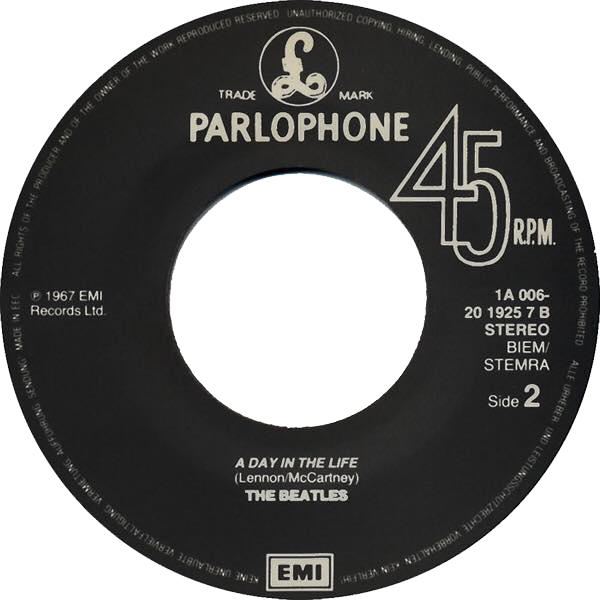 On this date in 1967, the Beatles' Sgt. Pepper's Lonely Hearts Club Band began its second week at #1 on the Billboard album chart.  The LP would spend a total of 15 weeks at #1 in the U.S. and an even more amazing 27 weeks at the top in the U.K. The album won four Grammy Awards, including Album of the Year, becoming the first rock LP to receive that honor. Time magazine declared Sgt. Pepper's Lonely Hearts Club Band, "a historic departure in the progress of music." 
In 1966, the Beatles permanently retired from touring and become a full-time studio band. They began work on what would become Sgt. Pepper's in November of that year. They would spend four painstaking months trying to complete the album. Along the way, due to pressure from their record label, they released "Strawberry Fields Forever" and "Penny Lane" as a double A-side single in February of 1967. These songs, which had originally been planned for the album were pulled and replaced.
It was Paul McCartney, after recording the song "Sgt. Pepper's Lonely Hearts Club Band," who suggested that the band should craft the entire album as if it were recorded by the fictional Sgt. Pepper band. This alter ego, he theorized, would give them the freedom to experiment musically. McCartney felt the band, to a man, were burnt out and tired of their new-found fame and perhaps pretending they were someone else for a spell might spur their creative juices.
There is no doubt that the Beatles were also inspired by, and perhaps motivated to top, the Beach Boys' 1966 album Pet Sounds with its experimental, psychedelic sound. The Beatles' producer, George Martin, has said, "Without Pet Sounds, Sgt. Pepper never would have happened."
To appreciate Peppers' impact one must also know something about 1967 and specifically the Summer of Love. The counter-culture, flower-power movement was in full bloom. Hippies everywhere from San Francisco to Greenwich Village to London believed they were ushering in a new generation, a bohemian paradise with acid rock as the soundtrack and psychedelic drugs as the key to new levels of consciousness. The era's zeitgeist created fertile ground for the world's biggest band to release their most experimental project. Sgt. Peppers was the perfect album at the perfect time. 
The last song on Sgt. Peppers, "A Day in the Life," is the masterful coda to the entire collection. As recently as a few years prior, Lennon and McCartney were writing songs, as Lennon once described "eyeball to eyeball."  But things had changed by 1967 and "A Day in the Life" is a perfect example of how much.  The song actually consists of two partial songs by each songwriter that the band and Martin wove together in the studio.  Lennon, a voracious reader of newspapers, wrote the opening two verses (beginning with, "I read the news today, oh boy"), cobbling together bits and pieces of stories he'd recently seen. When he presented it in the studio as an unfinished song, McCartney offered a short piano piece he had been working on with lyrics about a commuter whose uneventful morning routine leads him to drift off into a dream. He also contributed the line that got the song banned from radio: "I'd love to turn you on."
Lennon then wrote the song's final verse inspired by another news story, this one about potholes. To complete the song a 41 piece orchestra was brought in and told to start playing the lowest note of their instruments and gradually play to the highest, thus creating the amazing 24 bar crescendo that ends with that famous, single, piano chord. That chord was produced by all four Beatles and George Martin banging on three pianos simultaneously. As the sound diminished, the engineer boosted the faders.  
[……..CONTINUED IN THE BOOK!……….]
As a private event DJ since the late eighties, Michael Walter has entertained at thousands of parties.  He also owns and operates Elite Entertainment, an award winning DJ and production company that employs over 30 entertainers, photographers and technicians.  Michael is a nationally recognized speaker in the wedding industry and has previously published two books, "Running Your Multi-Op" and "10 Things You Can Do to Have a Better Day."
For Questions, Media Appearances, or Speaking Inquiries, please contact Michael here: mike@eliteentertainment.com
Pages Packed With Unique Stories
Different Artists Discussed
Days it will take you to thoroughly enjoy reading this book!
Printed Book
$29.99 + Shipping

[shipping IN the
United States]
Printed Book
$29.99 + Shipping


[shipping OUTSIDE
the United States]
AUDIOBOOK
(over 30 hours!)
$29.99

On this Date
In Music

Printed Book
AND Audiobook
$59.99 + Shipping

[Shipping Inside
of United States]
Printed Book
AND Audiobook
$59.99 + Shipping

[Shipping Outside
of United States]
Mike Walter Will Call
you every Morning
And Read Today's
Date In Music

$36,500
(only $100 day!)